Stormtroopers
An english speaking theatre group for youngsters from 10 until 15 years.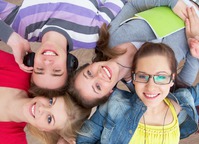 If you were always excited about theatre, this group is your possibility to try out this art form and different roles of creation! The course is aiming to give a general introduction to theatre and show the variety of the bases of this collaborative art form. During the course, we get to know different theatrical forms, such as improvisational theatre, object and movement based theatre and text based theatre. The group is open for everyone, no previous experience is needed but if you do have some experience, you are also very welcome to the group. Creating and maintaining a brave space for everyone is really important for us. If you would like to be inspired and be part of a creative community, join us!
- Nóri -
Stormtroopers is a new theatre group for people ages 10-15 years. The groups practises on Fridays at Vallila starting september 2021. No previous experience needed.
Join below!
Ryhmä on I-tason ryhmä 12-15-vuotiaille. Kyseessä on uusi ryhmä johon liittyäkseen ei tarvitse olla aiempaa kokemusta esiintymisestä tai teatteritaiteen opinnoista.

Opetus järjestetään Vallilassa perjantaisin kello 15.15-16.15